May 28th saw us reach the end of our two year journey as Harvard University's 364th commencement was held in the early morning. In excess of 40,000 people from all over the world gathered in Cambridge to celebrate this momentous occasion and the weather could not have been better.
This year's commencement address was given by Deval Patrick, the former governor of Massachusetts, while the day before, Natalie Portman took on the role of class day speaker. Inspiring speeches aside, the gathered Harvard affiliated students in cap and gown was an inspiring sight to behold.
HBS's commencement was held in the afternoon on the HBS campus down river. The ceremony was held on space created within the lawn area in front of Baker Library, and was witness to 940 newly graduating HBS students gathered under a sunny blue sky.
All graduating students were called by name, one by one, and went to the stage to receive their diplomas enclosed in crimson-red envelopes from Dean Nitin Nohria. Looking at the faces of classmates with whom we had studied for the past two years was an emotional journey, and no doubt the most excited people in attendance were the students' families. Thousands of videos and cameras were working hard not to miss a moment of their honored family member's unforgettable day. When the last student received their diploma, our two years at HBS had come to an end.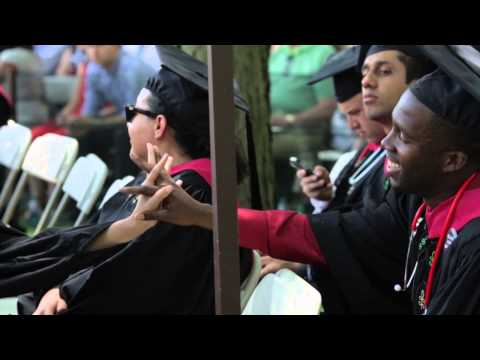 Over the next two to three days, most students will leave campus and fly off to start a new journey. We will be spread all over the world (although approximately 80% will remain in North America). I will see them again, next year at the reunion.